If you are even slightly active on social media sites like Twitter, Facebook or Instagram – then you would have definitely come across videos of celebrities dunking themselves with an ice water bucket in a bid to support the National ALS Organization. This campaign by ALS has not only become a viral hit but the ROMI (Return on Marketing Investment) for this is unbelievable – the ALS Organization in a matter of few weeks has received donations worth $7.6 million compared to $1.4 million last year. Now that would make any CMO proud.
While every viral campaign does need that bit of luck to hit the tipping point and accelerate into virality, here are a few key social media marketing lessons which one can take away from the ALS Ice Bucket Challenge
1. Keep It Simple But Unique- the message as well as the action point of the ALS campaign were pretty simple – Dunk yourself with a bucket of icy cold water, challenge 3 of your friends to do the same, and share the video on social channels. So you just needed a bucket of icy cold water, a camera for recording and an internet connection to post the video online. The simplicity of the challenge led to maximum participation as the barriers for entering this challenge were low. The challenge being simple also ensured that the videos shared were not longer than 100 seconds, considering the short attention span of the YouTube Gen,this ensured maximum views and a high viewer engagement. The Ice Bucket Challenge though simple was also remarkably unique, it was not another "me-too" campaign. It had this sense of uniqueness and a stamp of originality on it. Even the ALS campaign hash tags were short, simple and unique  - #StrikeOutALS and #IceBucketChallenge.
2. Keep the Element of Fun and Craziness - Simple should not necessarily mean boring, that is what the ALS Ice Bucket Challenge showed. Seeing common people and celebs dunking themselves in ice water was a fun sight. There was also ample scope of creativity as shown by Bill Gates and Paul Bissonnette (Paul did take the challenge to an all different level) to do the challenge in your own creative way. As celebs starting challenging one another to do the challenge, there was also an element of surprise – as to who the celebs would challenge, making it all the more interesting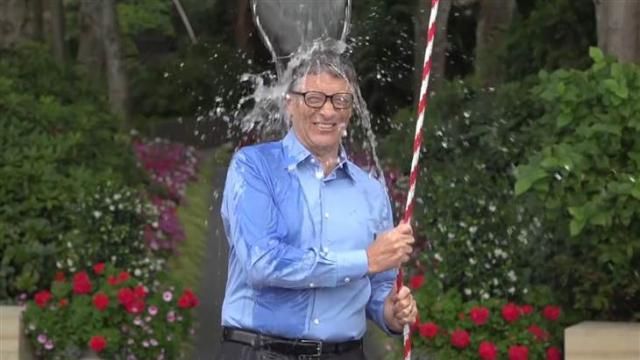 Pic : Bill Gates Taking The ALS Ice Bucket Challenge Read the rest of this entry »