Expectations were definitely nonexistent when I entered the multiplex, to catch some sleep. Oops to watch Shaurya. Last week's release One Two Three had prepared me to take on any movie and leave the theater mentally sound. So I said to myself," Bring on what you have Samar Khan(director of Shaurya) and I am ready to face it".
Five minutes into Shaurya : "Ok, another of those patriotic army movies. Get ready for some preaching, Amit"
Ten minutes into Shaurya : " Oh! So they are aping A Few Good Men, this time round. Time to find some sleep."
Fifteen minutes into Shaurya : "Is it really getting interesting? Or am I hallucinating"
Twenty Minutes Into Shaurya : "The movie has me hooked."
Shaurya Movie Story
Officer Javed Khan has been accused of killing his senior officer, Major Rathore. The lethargic fun loving officer Major Siddhant(Rahul Bose) has been entrusted with defending Javed. What Siddhant thought would just be a sight seeing and para gliding experience in the valleys of Srinagar turns out to be a life changing experience.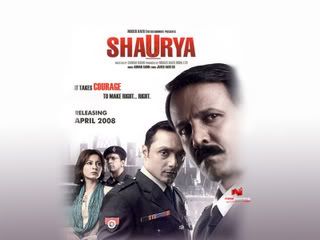 Shaurya Movie Poster

Shaurya Movie Review
If you have seen, A Few Good Men, then you will find scenes constantly been ripped off from the original. Ignore that and you will love the movie. To ape a classic, can be a difficult task, see what happened to RGV Ki Aag. But Samar Khan does a great job, one never expected the director who gave us a dismal movie like "Kuch Meetha Ho Jaaye", to turn out with a flick as interesting as Shaurya.
The screenplay of Shaurya is what makes a predictable film captivating. The way the movie is going to end is anybody's guess, but the way the pieces fall in place to complete the final picture is what makes Shaurya so watchable. But one thing that Shaurya could have easily done without was the love track between Minisha Lambha and Rahul Bose which seemed entirely forced into the script. If anything, the romance just slackened the pace of the movie.
Of the cast, Rahul Bose as the main protagonist, gives a competent performance. The humor, the passion, the hunger to win, are all perfectly portrayed with ease by Rahul . Minisha Lambha as the fiery journalist is a revelation. We definitely need to see more of this petite beauty in Bollywood.
But Shaurya belongs to Kay Kay Menon. Kay Kay who just gets around five scenes in the movie has you all impressed with his hair raising performance of Major Pratap. He has you glued to the screen with his magnetic screen presence and demeanour . If Hollywood has Jack Nicholson, then we do have Kay Kay Menon.
The cinematography of the film is below average. With Srinagar as the epicenter of the film, we expected some better work here. The music of Shaurya too, is a major let down , a movie like Shaurya deserved a better background score for the impact to be more resonating. But alas it disappoints on that front.
Finally, Shaurya isn't boring, grave, didactic and preachy like most military movies tend to be. In fact it is one of the better movies to come out from Bollywood this year. Surely give it a try.
Shaurya Movie Rating : 7/10
I have a passion for consulting and thankfully that is what I do for a living. I currently work as a Business Analyst in a leading IT company. I have an MBA in Marketing and Strategy from Xavier Institute Of Management, Bhubaneswar. Prior to my MBA, have been a Project lead at Tata Consultancy Services for 2.5 years.
Latest posts by Amit Kaundinya (see all)
No related posts.